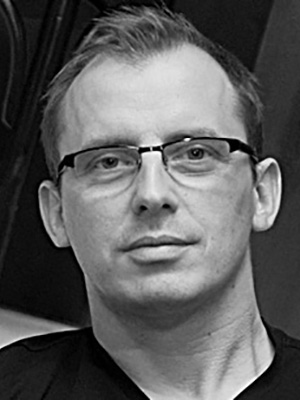 Photo Matthias Creutziger
Born in Dresden, Arne Walther completed his education as carpenter for set construction at the Saxon State Opera Dresden. Since 1992 he has worked as Assistant to Technical Director, since 2008 as Technical Production Manager. Certified chief carpenter and lighting manager.
As set designer, Arne Walther made his debut in 1994 and since then he has created a variety of set designs, spatial installations and lighting concepts for opera, ballet and television. He has worked with director Annette Jahn (e.g. Winter Journey, The Diary of Anne Frank) as well as choreographers Stephan Thoss, Vladimir Derevianko, Aaron Watkin and David Dawson. For choreographies by Stefan Thoss, he designed the sets for the Hamburg Ballet, the Stuttgart Ballet, the Semperoper Ballett, as well as the Hannover State Opera Ballet, the Kiel Ballet, the Chemnitz Ballet and the Ballet of the Gärtnerplatz-Theater in Munich. Collaboration with Thoss produced a number of productions, amongst which were Giselle M. that was awarded the "Faust" Theatre Prize, Cockaigne has burnt down, which won the Bavarian Theatre Award, as well as In Search of, Bolero, Under the Dog Star, To Moscow and Preludes.
At the Semperoper Arne Walther worked together with choreographers Vladimir Derevianko (Giselle, Don Quixote, Chopiniana) and Aaron Watkin (The Sleeping Beauty, La Bayadère, Swan Lake) and re-designed George Balanchine's Theme and Variations. He created the set design for David Dawson's Giselle that was performed at the Semperoper in Dresden and Slovenian National Opera in Ljubljana.
Furthermore, Walther designed the stage décor for the International Shostakovich's Days in Gohrisch and the ZDF's New Year Eve's Concert at the Semperoper under the direction of the Principal conductor Christian Thielemann. He also created the set design for the opera productions at the Semperoper, like Schwanda, the Bagpiper directed by Alex Köhler, which the opera world named the Rediscovery of the Year 2012, Il Tutore directed by Manfred White and La Dirindia directed by Alexander Brendel. Future projects include the stage designs for the operas Dorina e Nibbio and Carmen – both directed by Axel Köhler for the Semperoper in Dresden.
Productions with his designs guested in the USA, France, Spain, Indonesia, United Arab Emirates and other countries.
Since April 2006, Arne Walther teaches set design at the Academy of Fine Arts in Dresden.