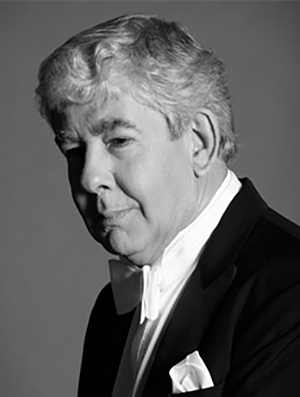 David Coleman conducts worldwide on the concert platform and in the theatre. He has appeared with nearly all the major British orchestras and around the world with leading Opera House and concert orchestras. He has conducted an extensive repertoire, ranging from the great symphonies to many new twentieth century works. In addition, he has directed a large number of Opera Galas as well as appearing at international music festivals. In France and Great Britain he works with famous choral societies and also actively promotes new music for which he has won several prestigious awards for innovative programming and performances.
Beginning his career as a repetiteur and conductor at the London Opera Centre, he was invited to join London Festival Ballet (English National Ballet), later becoming the company's Principal Guest Conductor. He is a renowned exponent of Rudolf Nureyev's productions. For many years he was Musical Director of Nureyev's company, Rudolf Nureyev and Friends. He premiered several of Nureyev's major choreographies, conducted most of the London Nureyev Festivals and recorded the music for several Nureyev films. He was for many years conductor with the Paris Opera Ballet in the major Paris seasons and on principal tours. He guests with many dance companies around the world, which have included Staatsoper Berlin, Staatsoper Vienna, Leipzig Opera, Royal Ballet Birmingham, the Opera National de Bordeaux and Rome Opera –with whom he performed the entire "Ballets Russes" season in the Spring of 2009. He is currently with the Semperoper in Dresden, Opera du Capitole in Toulouse and La Scala Milan.
As a composer, David Coleman has written works for the concert platform, the theatre and TV. Evocation of Summer was commissioned by Orchestre Colonne Paris, and received critical acclaim in Paris and Bordeaux and at its 2006 broadcast by Radio Classique France. He was commissioned by the Paris Opera to create the score for the reconstructed full-length ballet Paquita from Deldevez's original writings. In 2007 his new version of Sleeping Beauty was premiered at the Semperoper, Dresden. He then arranged and re-orchestrated a new score, after Adam, for the 2008 World premiere of David Dawson's version of Giselle. In 2008 he re-wrote the score of La Bayadère based on Minkus' themes including original material in a new version, with a completely new 4th Act and Finale. His new version of Swan Lake had its premier in November 2009. Currently, he is working on a new version of La Sylphide for chamber orchestra. He has recently completed a Concerto for Violin, a Fantasy for Brass Voices of Summer and a Colour Concerto for Oboe, Strings and Percussion.
Recordings range from the Ballet Classics on CD and Video through Opera and Choral works and contemporary scores. ITV made a documentary film about his early career. He appears regularly on European radio and television discussing music and dance and their performance.