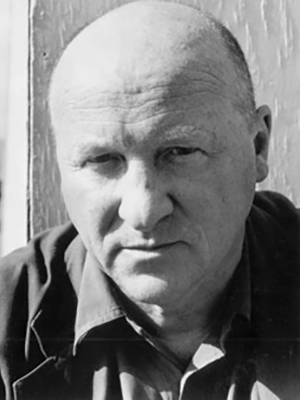 "… The music of Gavin Bryars falls under no category. It is mongrel, full of sensuality and wit and is deeply moving. He is one of the few composers who can put slapstick and primal emotion alongside each other. He allows you to witness new wonders in the sounds around you by approaching them from a completely new angle. With a third ear maybe. . ."

Michael Ondaatj
Gavin Bryars studied philosophy at Sheffield University and became a professional jazz bassist and a pioneer of free improvisation working especially with Derek Bailey and Tony Oxley. In the late 1960s he worked with John Cage and this influenced early works such as the indeterminately scored The Sinking of the Titanic of 1969 and the classic Jesus' Blood Never Failed Me Yet of 1971.
A major turning point in his development was his first opera Medea, premièred at the Opéra de Lyon and Opéra de Paris in 1984 (directed and designed by Robert Wilson). He has written two further operas, both with libretti by his long time collaborator Blake Morrison: Doctor Ox's Experiment (ENO 1998, directed by Atom Egoyan), and G (directed by Georges Delnon), commissioned by the Staatstheater Mainz for the Gutenberg 600th anniversary.
Bryars has been particularly drawn to vocal and choral music in recent years resulting in fruitful collaborations with the Latvian Radio Choir and Estonian Male Voice Choir, both of whom have recorded CDs on his own label, GB Records. This has prompted an extended sonnets series setting Edwin Morgan's sonnets for American and European male voice choirs. For many years he's worked with early music performers and has embarked on a series of books of madrigals: the first for The Hilliard Ensemble (texts by Blake Morrison), the second for the Trio Mediaeval Sextet (Petrarch sonnets), and the third for Red Byrd (Petrarch, translated by Synge). A fourth has been started (longer Petrarch poems) and there are two books of Irish Madrigals. He has written a large number of "Laude", many for the soprano Anna Maria Friman, and has set old Irish texts for the singer Iarla O'Lionaird and Tróndur í Gøtu, a setting of Faroese saga poetry for the Faroese bass Rúni Brattaberg, following their work together on settings of old Icelandic saga poetry.
He has produced a large body of chamber music both for his own ensemble and for other performers. He has also written extensively for strings as well as producing concertos for violin, viola, cello, double bass (plus one for jazz bass), saxophone and bass oboe. He completed a theatre piece, To Define Happiness, with Peeter Jalakas for Von Krahl theatre in Tallinn in 2007, and a project around Shakespeare's sonnets, Nothing Like the Sun, with the Royal Shakespeare Company and Opera North which toured the UK.
He taught for a number of years in art colleges and has collaborated with many visual artists such as Bruce McLean, Tim Head, James Hugonin, Bill Woodrow and Will Alsop (Valencia Architecture Biennale). In 2006 he was a guest speaker at the 10th Alvar Aalto Architecture Symposium in Finland. He has made installations/performances for the Liverpool Tate Gallery, the Tate St. Ives, the Chateau d'Oiron, among others and worked closely with the late Juan Muñoz, notably on A Man in a Room, Gambling.
Numerous choreographers have been drawn to his music and he has worked closely with Lucinda Child (for Rambert Dance Company), Laurie Booth, and William Forsyth (Frankfurt Ballet). In 1999 he collaborated with Merce Cunningham on BIPED and from 2002 he worked closely with Carolyn Carlson on Writings on Water for the Venice Biennale. A collaboration with Edouard Lock for La La La Human Steps in 2006 resulted in Amjad which toured the world for two years. A new project, based on the music of Purcell, is planned for 2011. He has most recently written music for David Dawson, The Third Light, a commission from the Royal Ballet of Flanders to mark their 40th Anniversary in January 2010.
He is currently developing two chamber operas with Canadian writer Marilyn Bowering (on Marilyn Monroe) and with Glen David Gold (on the magician Erdnase).
Gavin Bryars' work is widely recorded on Incus, ECM, Point, Philips, Argo, Clarinet Classics, Daphénéo, CBC Records, Touch, Mode, and on his own label GB Records.
He is  an Associate Research Fellow at Dartington College of Arts and Regent of the Collège de 'Pataphysique.