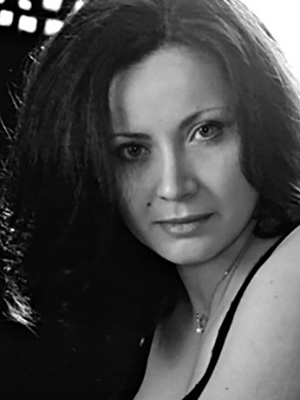 Praised by the legendary Martha Argerich as "one of the best young musicians I ever heard in my life", Italian pianist Irene Russo (1974) appeared on the big international stages like one of the most interesting talents of her generation.Pupil of both Franco Scala and the legendary Lazar Berman at the International Piano Academy "Incontri col Maestro", she also studied with Alicia de Larrocha in Barcelona.
Her latest Franz Liszt "Angelus" double CD for Brilliant Classics has been released worldwide on June 1st 2016. Highly praised by both press and public this recording has been recently chosen as best instrumental CD of the month on the prestigious "Gramophone" magazine (sept. 2016). Officially presented on BBC Radio 3 it has been broadcasted on various radio stations like RAI Radio 3, Bayerischer Rundfunk, Radio 4 Holland, Radio Clasica Spain.She collaborated with renowned conductors such as: John Axelrod, Umberto Benedetti Michelangeli, Susanna Mälkki, David Stern, Fabio Mastrangelo, Alexander Liebreich, Marc Andreae, Misha Damev, Ovidiu Balan and Michel Tilkin. She has been also guest soloist with the Kiev National Symphony Orchestra, Orchestra da Camera di Mantova, Klassische Philharmonie, Orchestra Sinfonica del Teatro San Carlo, Houston OrchestraX, Orchestra da Camera della Toscana, Brandenburgisches Staatsorchester Frankfurt, Craiova Symphony Orchestra, Orchestra Sinfonica della Provincia di Bari. Winner of the Clara Schumann International Piano Competition of Düsseldorf 2000, she was also awarded for the best contemporary interpretation at the ARD 2002 International Music Competition in Munich. Since then she started a fruitful collaboration with the german composer Jörg Widmann, who wrote his acclaimed "Hallstudie" especially for her.
She has toured Europe extensively, performing in the most prestigious venues like: Amsterdam Concertgebouw, Muziekgebouw and Beurs van Berlage, Utrecht Stadsschouwburg, Rotterdam Schouwburg Theater, Brussels Palais-des-Beaux-Arts and Theatre Flagey, Antwerp deSingel and Koningin Elizabethzaal, Bruges Concertgebouw, Ghent Opera and Bijloke, Berlin Konzerthaus and Bechstein International Klavier Series, Hamburg Musikhalle, Bremen dieGlocke, Nürnberg Meistersingerhalle, Düsseldorf T onhalle, Hannover Theater Am Aegi, Munich deGasteig, Prinzregententheatre and Herkulessaal, Bonn Beethovenhalle and Beethovenhaus, Stuttgart Liederhalle, Karlsruhe Kongresszentrum, Wiesbaden Kurhaus, Bad Neuenahr Kurtheater, Bielefeld Rudolf-Oetker-Halle, Heidelberg Festivalforum Alte PH, Ludwigshafen BASF Gesellschaftshaus, Frankfurt Konzerthalle, Madrid Sala Reina Sofia and Fundación Guerrero, Barcelona Auditorio Marshall, Valencia Palau de la Musica, Alicante MUBAG, Lisbon Teatro Municipal, Paris Théâtre de Saint-Quentin-en-Yvelines, Marseille Le Silo, Nantes Cité des Congrès, La Roche sur Yon Le Manège, Angers Centre des Congrès, Zürich MKZ, Milan Auditorium Verdi and Auditorium Di Vittorio, Bologna Teatro Comunale, Napoli Teatro San Carlo, Roma Palazzo Barberini, Cesena Teatro Bonci, Fabriano Teatro Comunale, Foggia Teatro Giordano, Torino Palazzo Graneri, Venezia Palazzo Albrizzi.
In 2003 Irene Russo received the Mention of Honour at the Martha Argerich International Piano Competition. She has performed at the Teatro Colon in Buenos Aires, Arthur Rubinstein Society in Tel Aviv, Jack Singer Hall in Calgary, Marconi Hall in Sydney. Eclectic and experimental artist she has collaborated with visual artists, dancers and choreographers such as David Dawson, Royal Ballet of Flanders and Director Kathryn Bennetts, Patricia Neary (Balanchine's étoile). In 2011 she has performed at Flemish Opera House of Antwerp at the presence of Her Majesty Queen Mathilde of Belgium. Founder and regular performer of the Piano Ensemble together with dutch pianist Jeroen Van Veen, she has recorded the integrale of Simeon Ten Holt Multiple Pianos Work in 2005 for Brilliant Classics. Her later CD release of Ten Holt's most known piece Canto Ostinato has sold more than 15.000 copies becoming the best selling classical album in The Netherlands.
Irene Russo has recorded for the major European radio and television broadcasting channels such as: RAI, SWR, NDR, Alpha TV Germany, Bayerischer Rundfunk, ARD, ZDF, WDR, Radio Vaticana, Radio 4 Klassik Holland, Radio Klara Belgium, Classique 3, France Musique, Radio CBC Canada, HUHF Radio USA. In 1999 she won the First Prize at the Emmanuel Durlet International Piano Competition of Antwerp, where her interpretation of Liszt b minor Sonata during the Final was mentioned as one of the highlights of classical music in 1999 on the national newspaper De Standaard.
Passionate chamber musician, Ms. Russo has collaborated with: Jörg Widmann, Alexander Lonquich, Valerie Guillorit, Gabriele Cassone, Frank Reinecke, David Adorjan, Cristina Mantese, Alissa Margulis, Carolin Widmann, Genevieve Strosser, Zoltan Kovacs and Nadja Helble among others. Engaged teacher, she held a professorship at the Royal Music Conservatoire of Antwerp and currently she is a highly sought after teacher at the LUCA School of Music, Campus Lemmens of Leuven, Belgium. She's also on faculty at the Music Conservatoire "Steffani" of Castelfranco Veneto, Italy. She's regularly invited to give Masterclasses and Lectures in several Universities and Conservatoria: Helsinki, Geneve, Groningen, Castellon de la Plana, Alicante, Udine.
She's member of the jury in several international piano competitions such as: Treviso, Aalst, Antwerp, Utrecht.