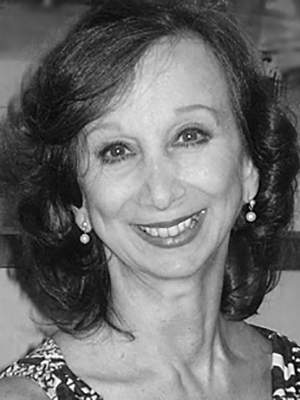 British born, Maina Gielgud began ballet lessons in England with some of the great names of 20th Century ballet including Tamara Karsavina and Stanislas Idzikowsky until, at the age of twelve, she moved to France to continue her training.  There she studied with, Lubov Egorova, Victor Gsovsky and, later, with Rosella Hightower and Marika Besobrasova.
Her first years as a professional dancer began with the companies of Roland Petit, the Grand Ballet du Marquis de Cuevas, Rosella Hightower and the Grand Ballet Classique de France, where she already performed a number of principal roles. Then followed four years with Maurice Bejart's Ballet of the Twentieth Century, during which time she created several ballets including Bhakti, Forme et Ligne and Rose Variations.
Partnering Rudolf Nureyev in The Sleeping Beauty re-kindled her desire to dance the classics and prompted her to join London Festival Ballet (now English National Ballet) as a principal artist in 1972. From 1977 Maina Gielgud's career as a freelance dancer took her to Hungary, France, Germany, Australia (where she danced her first Juliet in Cranko's Romeo and Juliet, and first Ashton role as Lise in La Fille mal gardée), America and Brussels.  She created her now famous Steps, Notes and Squeaks, which was successfully premiered in London in 1978, and later toured Australia.
In 1983, she was appointed Artistic Director of the Australian Ballet. During her 14 years there she introduced over 40 classical and modern works to the Company's repertoire, challenging dancers and audiences with existing and commissioned works by Australian and international choreographers, while also discovering and nurturing Stephen Baynes and Stanton Welch whom she later appointed Resident Choreographers. Maina staged traditional versions of The Sleeping Beauty and Giselle, both of which were extremely successful both in Australia and on overseas tours.
In 1997 Maina was appointed Artistic Director of The Royal Danish Ballet, where during her two years tenure, she brought works new to the company, including Rudolf Nureyev's production of Don Quixotte, works by Jiri Kylian, Mats Ek, Maurice Béjart and Stanton Welch.  She also introduced an International Choreographic Competition, from which all four winning works were brought into the repertoire the following season.
From 1999, Maina has been enjoying a freelance career as Director and Guest Répétiteur, and since 2006, she is a regular Guest Répétiteur and teacher with English National Ballet. In addition, she has taught, coached and staged works for several different companies including Béjart Ballet Lausanne, The Australian Ballet, Tokyo Ballet, Munich Ballet, Ballet du Rhin, National Ballet of Canada, it's National Ballet School, the Royal Ballet School, La Scala Milan and the Paris Opera Ballet.
During her tenure as Artistic Associate with Houston Ballet from July 2003 to July 2005, Maina staged Serge Lifar's Suite en Blanc, as well as her own production of Giselle during the first half of 2005. Both ballets were much acclaimed by both press and audiences.
Maina has also staged Suite en Blanc for the Hong Kong Ballet and with much critical and audience acclaim, as well as for English National Ballet in 2011 (restaged in 2012). She brought it for the first time to San Francisco Ballet in early 2013.
Her restaging of Rudolf Nureyev's production of Don Quixotte was most successfully performed in Boston in April 2012, while the staging of Maurice Bejart's Song of a Wayfarer was a revelation to those who had not seen it before, and a joy to those who had.
Current projects include a staging of Erik Bruhn's last production of La Sylphide for the Rome Opera House with guest artists Novikova, Sarafanov and Chalendard. This will be followed by guest coaching for Rudopf Nureyev's production of Swan Lake at La Scala Milan, including guest artist Natalia Osipova.
Maina was assistant to David Dawson for his creation of Faun(e) for English National Ballet in 2009.