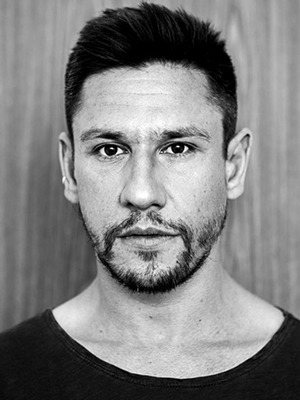 Originally from Poland, Szymon Brzóska graduated from the Music Academy in Poznań, Poland as well as the Royal Flemish Conservatory in Antwerp, Belgium.
Szymon's particular interest in the synergy between music, contemporary dance, theatre and cinema led him to participate in numerous collaborative projects across various art forms. In 2008 he composed the score for Sutra, a collaboration with choreographer Sidi Larbi Cherkaoui, sculptor Anthony Gormley and monks from the Shaolin temple in China, which brought him on a tour to the most prestigious venues around the world, like Sadler's Wells Theatre, Sydney Opera House, Lincoln Centre and BAM in New York, Esplanade in Singapore as well as at the Festival D'Avignon. The same year he wrote the soundtrack for the French film Le bruit des gens autour, directed by Diastème, which was premiered at the Festival D'Avignon in 2008. Sutra's success led Brzóska and Cherkaoui to join forces in a few more projects: Orbo Novo (2009) performed by the Cedar Lake Contemporary Ballet, Dunas (2009) a duet between Cherkaoui and Maria Pagès, Labyrinth (2011) a ballet commissioned by Het Nationale Ballet in Amsterdam, m¡longa (2013) created for the swiss Théatre Jorat and Noetic (2014) with Göteborg Dance Company and The Göteborg Opera Orchestra.
Brzóska also composed music for more intimate dance productions: I will (2009) by Małgorzata Dzierżon, (S)NOW (2010) by Dutch choreographer Joost Vrouenraets, Desert (2011) with the Polish Dance Theatre, Oh, noh (2012) by Kaya Kołodziejczyk and Casting Traces (2012) by New Movement Collective. Szymon's contemporary compositions were performed during the music @ venture festival in Antwerp, Festival of Polish Piano Music in Słupsk, Biennale Ars Polonia in Opole, Sounds New Contemporary Music Festival in Canterbury, Tehran International Contemporary Music Festival and En Avant Mars in Gent.
In 2013 he came back to Amsterdam with a score for Overture, a ballet choreographed by David Dawson for Het Nationale Ballet. The music was performed by pianist Barbara Drążkowska and Holland Symfonia, conducted by Matthew Rowe.
In January 2014 Szymon's Icarus for solo piano was heard in Staatsoper Berlin, accompanying a solo choreographed by Sidi Larbi Cherkaoui performed by the legendary Vladimir Malakhov. Tristan + Isolde, a new ballet by David Dawson commissioned by Semperoper Ballett, was premiered in February 2015 in Dresden Semperoper. Brzóska's orchestral score was performed by the prestigious Staatskapelle Dresden.
In February 2017 Szymon returned to Dutch National Opera and Ballet in Amsterdam with Citizen Nowhere, his third collaboration with David Dawson. The score for piano and orchestra was performed by Het Balletorkest led by Philip Ellis.
He also wrote the soundtrack to the French film Le bruit des gens autour directed by Diastème.
szymonbrzoska.me
soundcloud.com/szymonbrzoska
facebook.com/szymonbrzoskamusic